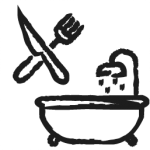 U droomt al een tijdje van dat geweldige kookeiland, of die prachtige inloopdouche? Goed bezig, want u bent al fijn op mijn website aan het kijken.
Zoals ik al eerder aangaf, ben ik onafhankelijk en hoef dus geen keukenkastjes of sanitair te verkopen. Mijn belang is om een mooi en functioneel plan neer te leggen dat aansluit bij uw wensen en eisen. Tevens een plan dat verder kijkt dan enkel de keuken of badkamer. Ik pak het grotere geheel aan, misschien wel de eetkamer of inloopkast? Onze woningen bestaan tegenwoordig (gelukkig) niet meer uit hokjes, en dat dwingt ons vaak om 1 plan te maken voor alle aangrenzende ruimtes.
Omdat een nieuwe keuken of badkamer vaak gepaard gaat met een kleine verbouwing kunt u het net zo eenvoudig bij 1 aanspreekpunt neer leggen. In samenwerking met specialisten en vakmensen zorgen wij voor een prachtig en origineel eindresultaat.